Tour the architectures in the Southwest - Pueblo Deco - 2 (Arizona, New Mexico, USA)
Pueblo Deco remains mainly in Texas and New Mexico and additionally in Arizona and around New York at a long distance. This time I saw works existing on the way from Phoenix in Arizona to Santa Fe via Albuquerque in New Mexico. However, without previous knowledge by the book "Pueblo Deco" written by Carla Breeze, I could not imagine those as the same category.
The Santa Fe has a stepped form corbelling quietly so as to support the eaves of the pouch on the south side, except for that, it looks like one of the colonial style, the mission-revival style.
A 6-story Federal Building in downtown Albuquerque has horizontal lines and arches with geometric patterns based on indigenous motifs, but it also looks like the revival style of the Renaissance unless I approach it .
When I visited the Arizona Biltmore hotel in Phoenix, the eyes of a visitor gazed only to Frank Lloyd Wright. But the architect MacArthur was influenced not only by Wright but also by the indigenous people's architecture. The roof like an armor hanging on the hall is said to have imitated Kivas as a place of rituals.
In the Lurhs Tower in Phoenix, the decoration of Art Deco architecture is replaced with a colonial derived motif, so it will suddenly become easy to understand. The Wright's Trading Post located near the Kimo Theater, a souvenir shop for tourists, is founded with a travel boom to the southwest. The facade of signboard architecture features indigenous jewelry handled in the shop and Hopi's "stacked ear of corn", while the mineral expression overlaps with the features of Art Deco.
Google Maps - Santa Fe Station
Google Maps - Federal Building
Google Maps - Arizona Biltmore Hotel
Google Maps - Luhrs Tower
Google Maps - Wright's Trading Post
Google Maps - Maisel's Trading Post
Google Maps - Skinner Building
Google Maps - Maricopa County Courthouse
Google Maps - Chief Theater
Transportation
Santa Fe Station : 20 minutes' walk form downtown Santa Fe.
Architectures in Albuquerque : Within the walking distance of downtown Albuquerque.
Architectures in Phoenix : Within the walking distance of downtown Phoenix.
Chief Theater: Within the walking distance of downtown Gallup.
Link
City of Santa Fe
Official Travel Site for Santa Fe
City of Albuquerque
Albuquerque Convention & Visitors Bureau
Accommodations
Santa Fe
Albuquerque
Gallup
Phoenix
References
"Pueblo Deco" (Carla Breeze, Rizzolli, 1990)
Upload
2018.01 Photos and text in English version and Japanese version
Update
Copyright (C) 2010 Future-scape Architects. All Rights Reserved.
無断転載は、ご遠慮いただくようにお願いいたします。
Santa Fe Station, Santa Fe, New Mexico (Architect : Charles Whittlesey) (1909)

Federal Building, Albuquerque, New Mexico (Architect : Louis A. Simon, James B. Wetmore) (1930)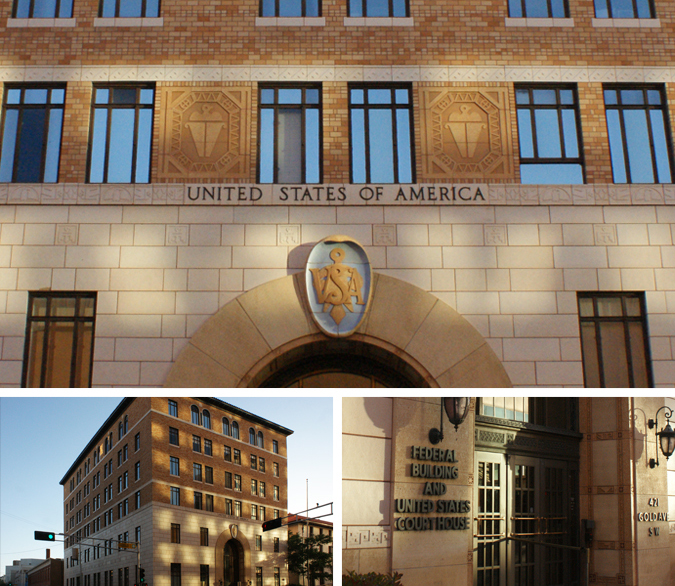 Arizona Biltmore Hotel, Phoenix, Arizona (Architect : Alvert Chase McArthur) (1929)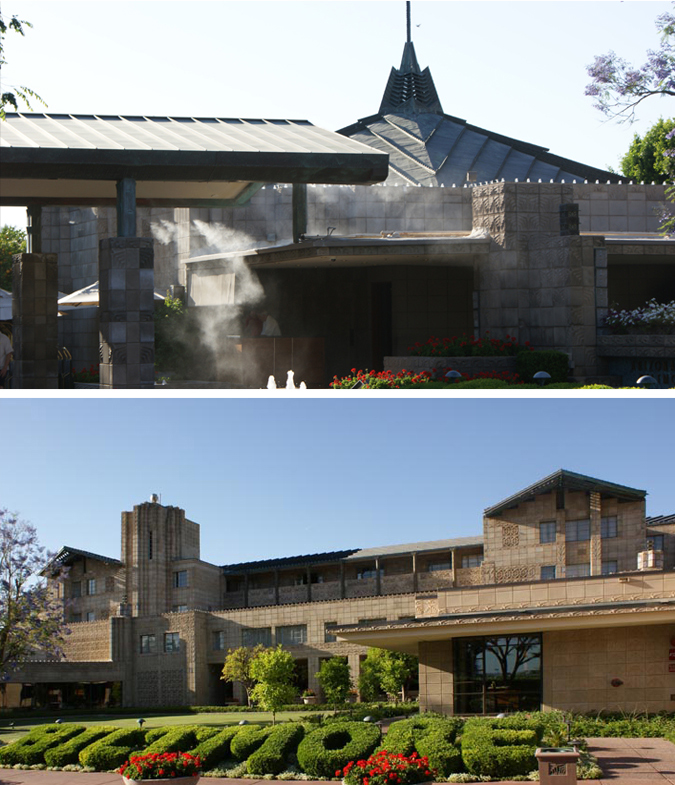 Luhrs Tower, Phoenix, Arizona (Architects : Trost & Trost) (1929)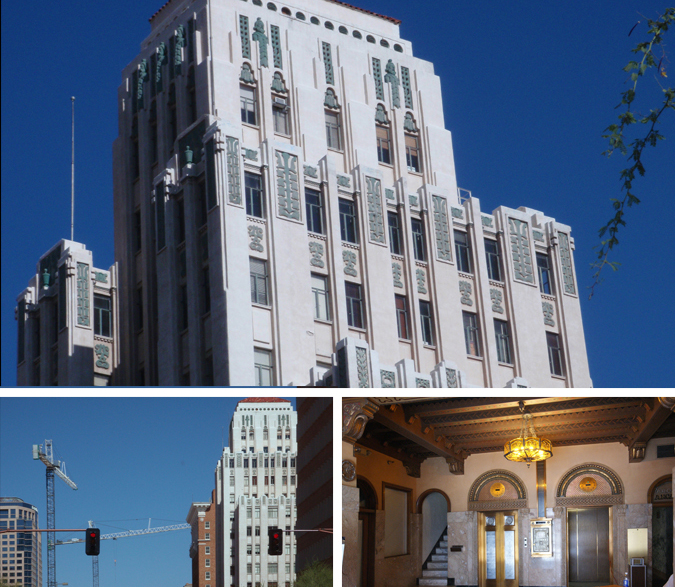 Photo by Daigo Ishii