← previous project next project→
4,947 sq.m.
53,249 sq.ft.
A complex of a supermarket and housing in Trondheim, Norway.
Trondheim is a city with a beautiful landscape of gentle hills. The Hill is located in a residential area on the hillside. A Supermarket and parking lots were buried in artificial hill continuous to the landscape, and detached houses were scattered on the hill.
In the case of such a complex, the general solution is to place a middle-rise box-shaped apartment building on top of a low-rise supermarket, and there are many such cases in Trondheim. In contrast, The Hill was designed to be continuous with the landscape of a good detached residential area and doesn't destroy it. Seen from a distance, it is not strongly conscious of its existence since it gets mixed with the scenery of the residential area.
The residential area on the hill has achieved a high density but good residential environment due to the separation distance and open space for young children based on the regulation.
Except for the handicapped dwelling units that are obliged to be installed, each dwelling unit is basically a two-story building, with an LDK on the upper floor and a roof balcony on the roof using a roof inclination. The hill slope faces to the east, with views of downtown Trondheim and the fjords from the upper floor and roof balcony of each unit.
The exterior wall of each dwelling unit is a modern reinterpretation of the colors of traditional private houses.
Location : Trondheim, Sør-Trøndelag, Norway
Architect : Agraff + Daigo Ishii
Structure Engineer : Norconsult AS
Mechanical Engineer: Oras AS
Construction : Heimdal Entreprenør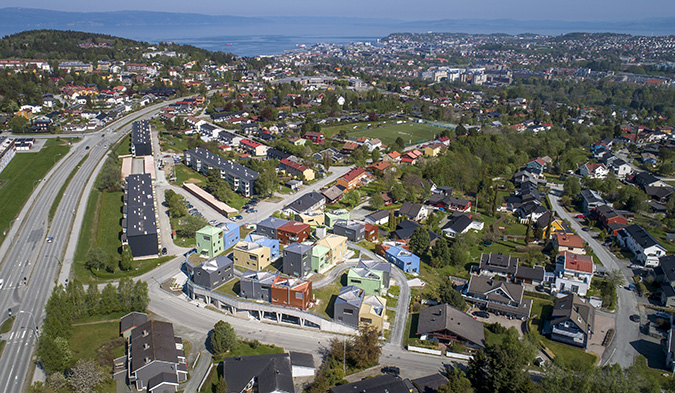 Overlook from the sky The Hill, the city of Trondheim, and the fjord beyond it. Photo:Erik Børseth (SINLIG)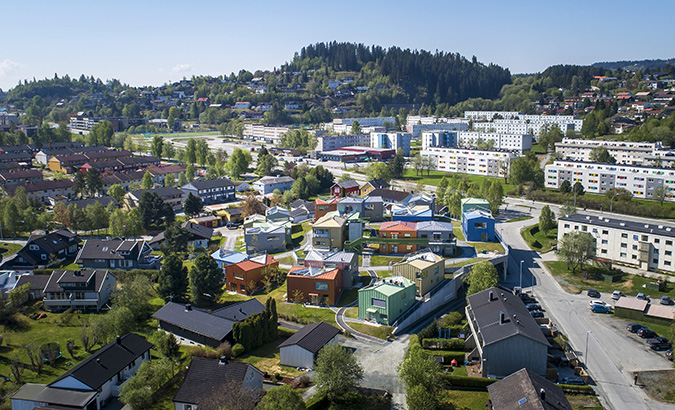 See The Hill embedded in the sceneryof a residential area. Photo:Erik Børseth (SINLIG)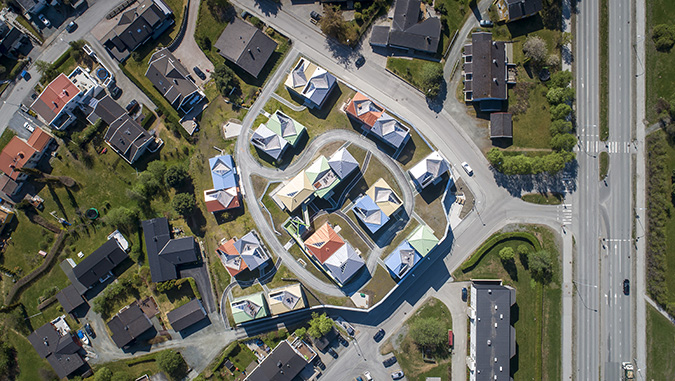 See The Hill from the sky. It intends to get closer to the building density of the surrounding residential area. Photo:Erik Børseth (SINLIG)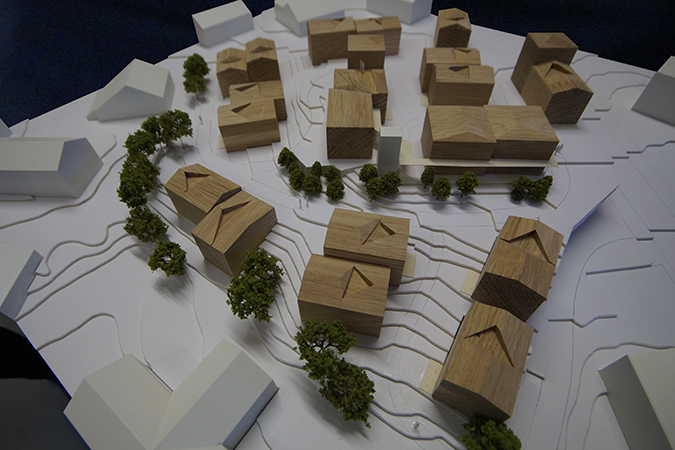 See The Hill from the higher side of the hillside. 22 dwelling units are scattered on the artificial hill.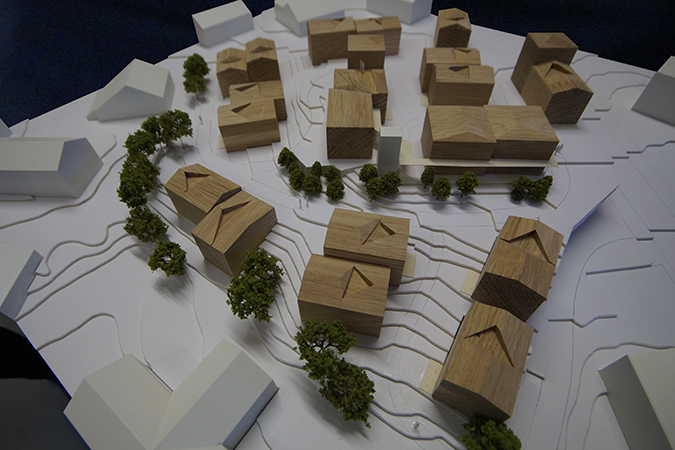 See The Hill from the bottom of the hillside.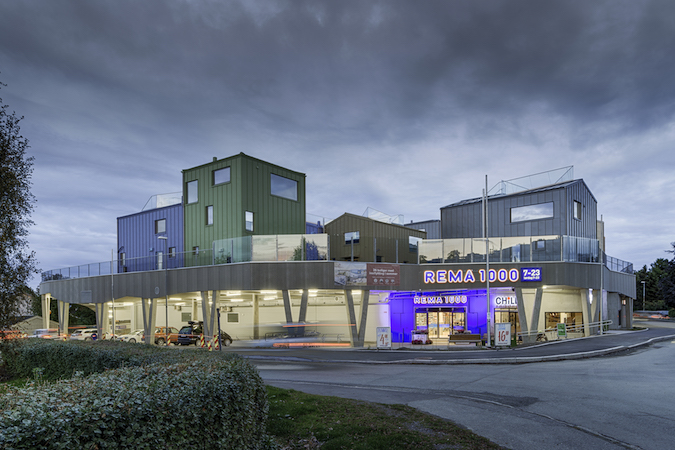 See The Hill from the supermarket entrance side. The dwelling unit is on the hill of artificial ground. Photo:Matthias Herzog (VISUALIS)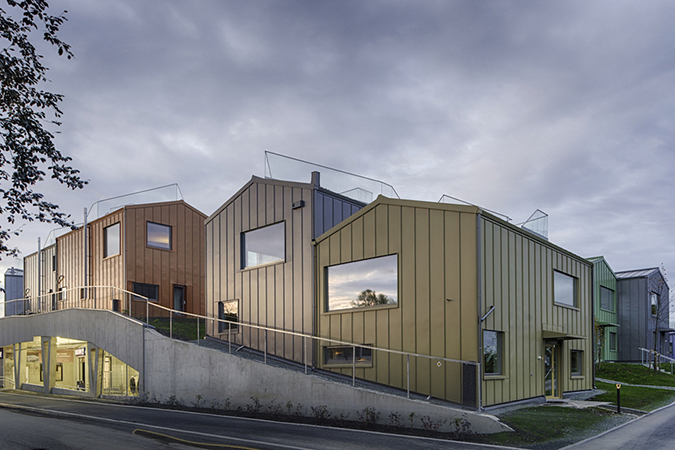 See the artificial hill and the dwelling units built on it. The artificial hill gradually goes up from the ground on a gentle slope. Photo:Matthias Herzog (VISUALIS)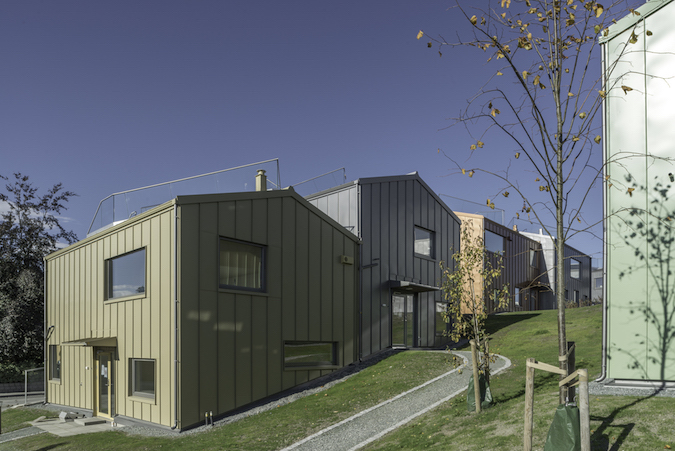 See the artificial hill and the dwelling units built on it. The artificial hill gradually goes up from the ground on a gentle slope. Photo:Matthias Herzog (VISUALIS)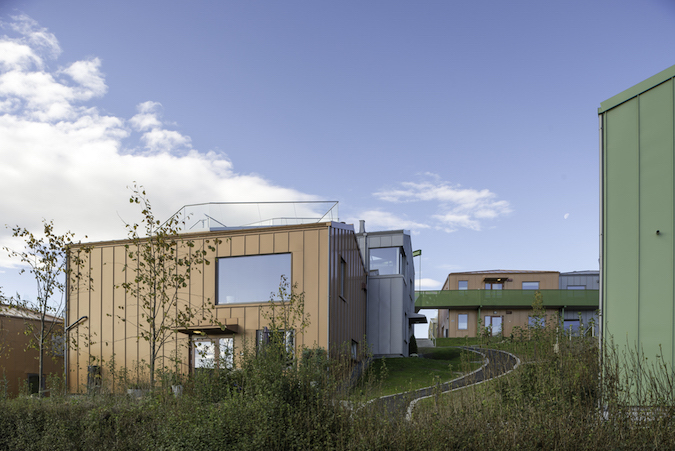 丘の上には、住戸の間に、On the hill, open spaces are disposed between the dwelling units in accordance with the regulation to provide a comfortable living environment. Photo:Matthias Herzog (VISUALIS)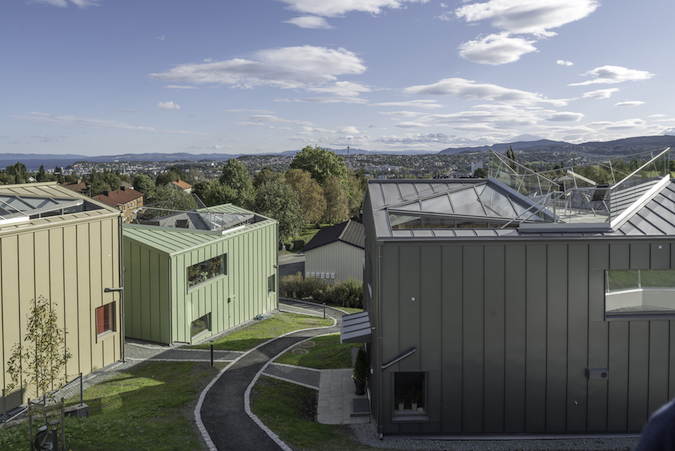 See the city of Trondheim and the fjord to the east. Photo:Matthias Herzog (VISUALIS)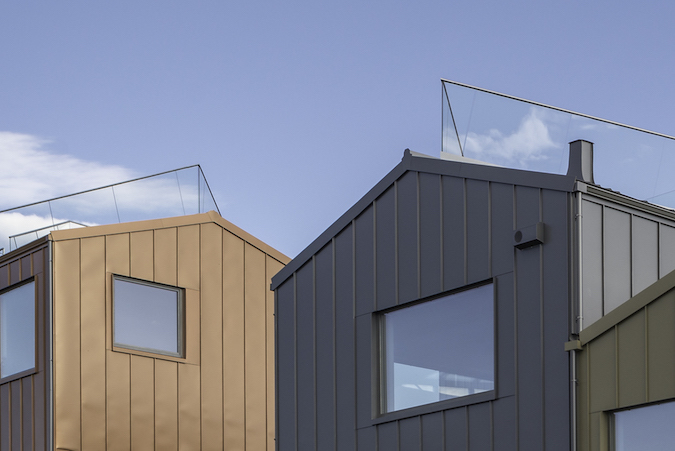 The dwelling units is designed with a modern reinterpretation of the colors of traditional private houses. Photo:Matthias Herzog (VISUALIS)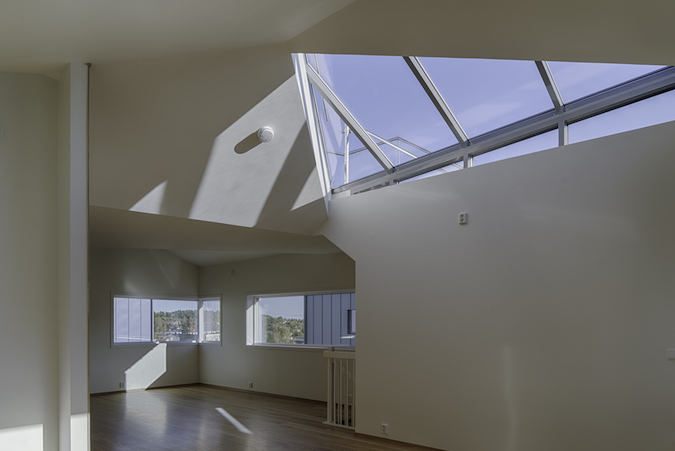 The upper floor of the dwelling unit is an LDK, and bright light of the high latitudes region can enter through the windows and top lights all day long. Photo:Matthias Herzog (VISUALIS)
Above the roof is a roof balcony that utilizes the inclination of the roof.Photo:Matthias Herzog (VISUALIS)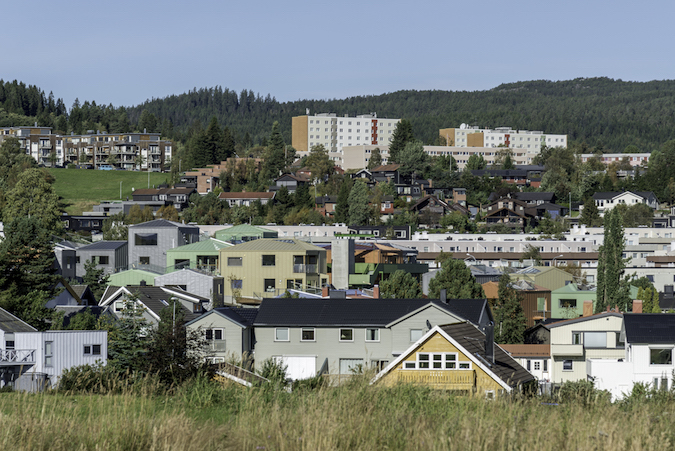 The Hill's dwelling units are embedded in the scenery of the surrounding residential area and get familiar to the surroundings.Photo:Matthias Herzog (VISUALIS)