© previous project next project¨
50 sq.m.
538 sq.ft.
This architecture is an annex of the old family house constructed 200 years ago. It situates in the area with atmosphere of rural village.
The annex was located carefully between the existing buildings. Based on the survey in the area.
It is finished with thin metal plates usually used for the roof in the area and locals used to seeing. At the same time, the thin metal plates are used not only for the roof but also for the exterior wall, that is, it has a slight gap between the surroundings. So, locals feel no sense of strong incompatibility but delicate difference.
In the interior, the floor and line elements such as column are finished with black oil stain, and the wall and ceiling are finished with white paint. The main house with history of 200 years was finished with black and white. In the annex, the rule of color was applied more thoroughgoingly and more clearly.
Besides, the black and white paint has a strong gloss. As a result, when they enter in the annex from the main house, they feel of a sense of continuity but the difference of atmosphere.
By the strong gloss, the floor, wall and ceiling reflect the light and the scenery on the each surface and the reflected image reflects on each other again. In the fine day, on the ceiling, very complicated graduation appears as if clouds had floated. In that time, the interior connects to the exterior and become a part of the scenery.
We designed this architecture on the balance of the continuation with the context and the independence from the context.
Location : Akiruno, Tokyo
Architect : Daigo Ishii + Future-scape Architects
Structure Engineer : Oga Structure Design Office
Equipment Engineer : Akeno Equipment Design Office
Construction : Honma Construction Company
@


@@
@@
@
@
@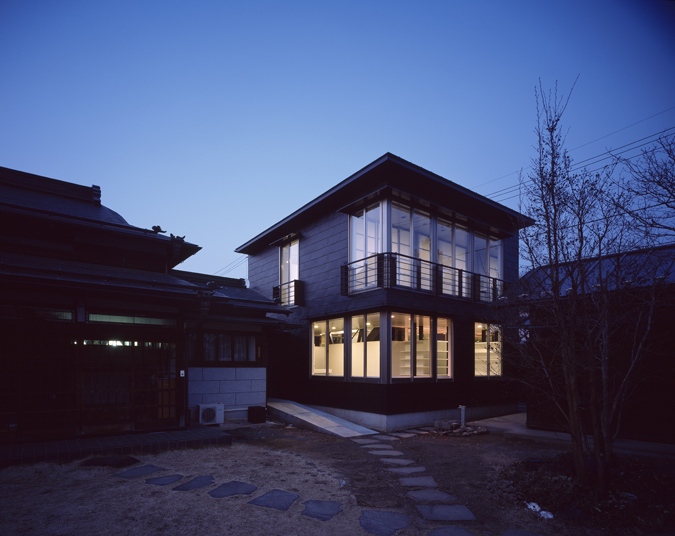 See the exterior appearance from the garden in the evening. The left side is the 200-year-old main building, and the right side is the barn. In the interior on the 2nd floor, the shoji screens finished the polycarbonate plate glow softly. Photo : Koichi Torimura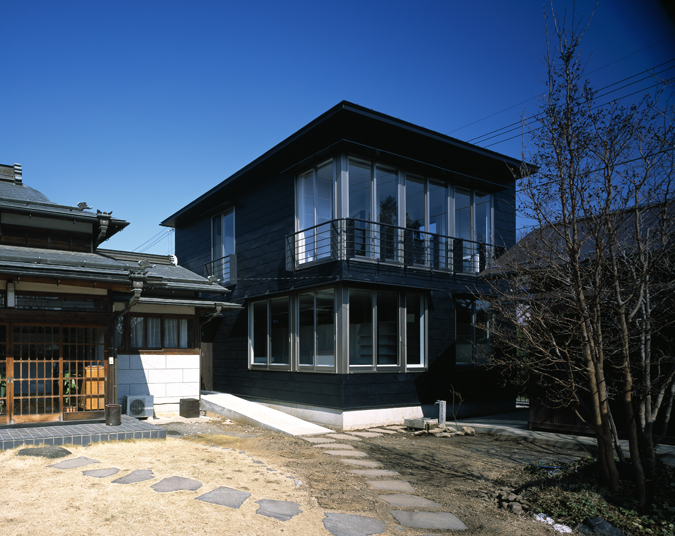 See the exterior appearance from the garden in the afternoon It is a two-story building considers not to make it higher than the height of the main building. Photo: Koichi Torimura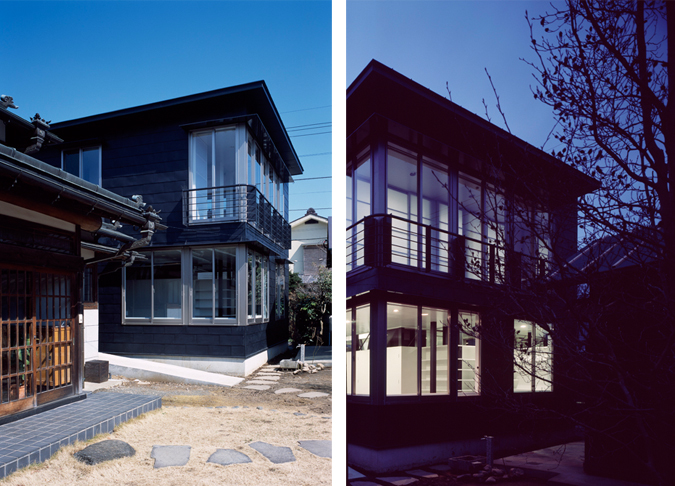 The roof and the exterior wall is finished with a steel plate, which is often used for roofs around here, and the difference of how to use a steel plate creates delicate differences. Photo: Koichi Torimura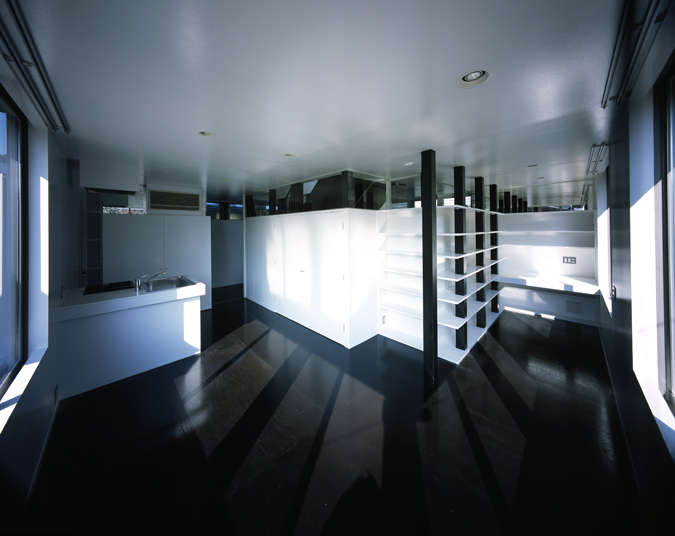 See the atelier and study on the 1st floor. Similarly to the 200-year-old main building, it is finished in black and white, but the glossy surface of the wall and the ceiling creates an atmosphere that is slightly different from the main building. Photo: Koichi Torimura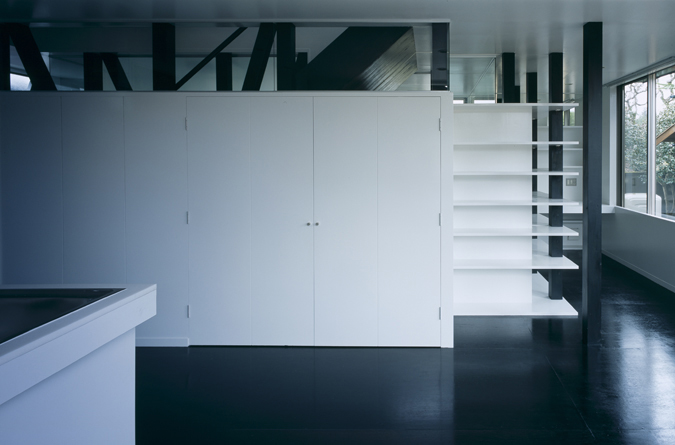 See the atelier and study on the 1st floor. The upper part is a transom, and the adjacent space and the ceiling are continuous with this space through it. Photo: Koichi Torimura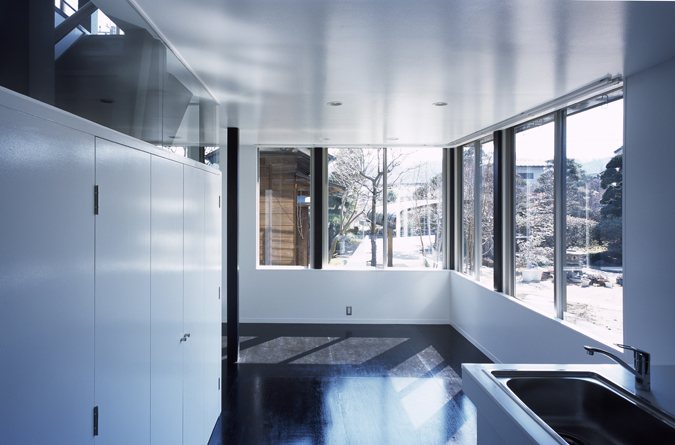 The light reflected by the full-gloss paint on the floor and walls is reflected on the ceiling, and cloud-like shadows appear. It's indoors, but we designed so that they feel like I'm outside. Photo: Koichi Torimura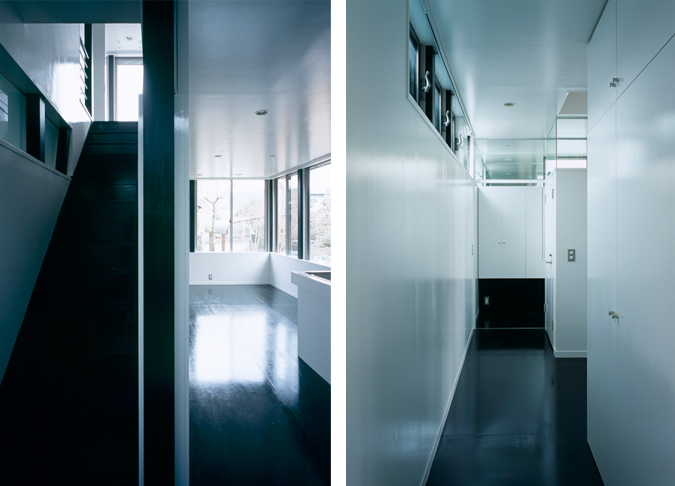 (Left) See the atelier and stairs from the corridor. The stairs go up across the transom. (Right) Light and scenery are reflected on the finished surface of the corridor. Photo: Koichi Torimura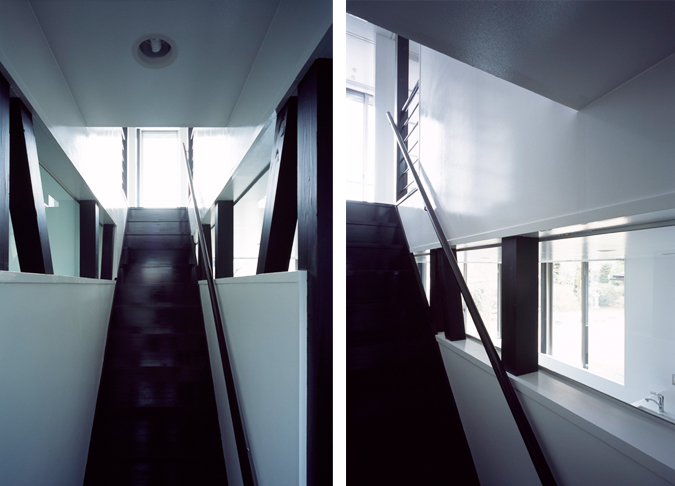 Look up at the stairs. On the way from the 1st floor to the 2nd floor, they cross the transom, and the scenery of the atelier on the 1st floor appears in sight for a moment. Photo: Koichi Torimura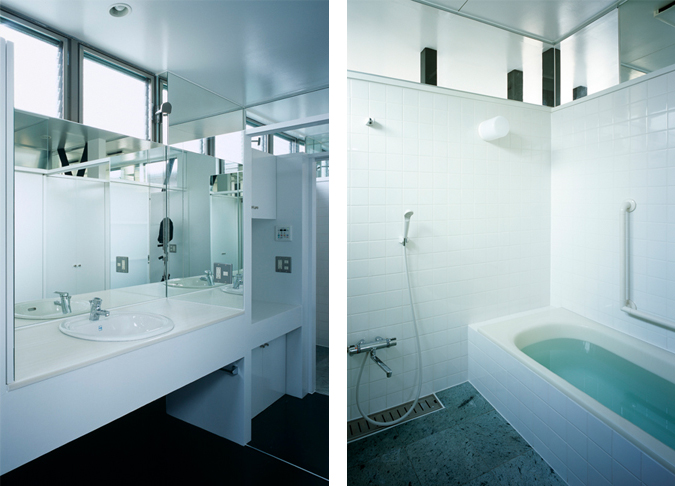 See the washroom and bathroom on the 1st floor. The upper part is the transoms. The ceiling continues to the adjacent space, and light enters from various directions, so they feel more spacious than it really is. Photo: Koichi Torimura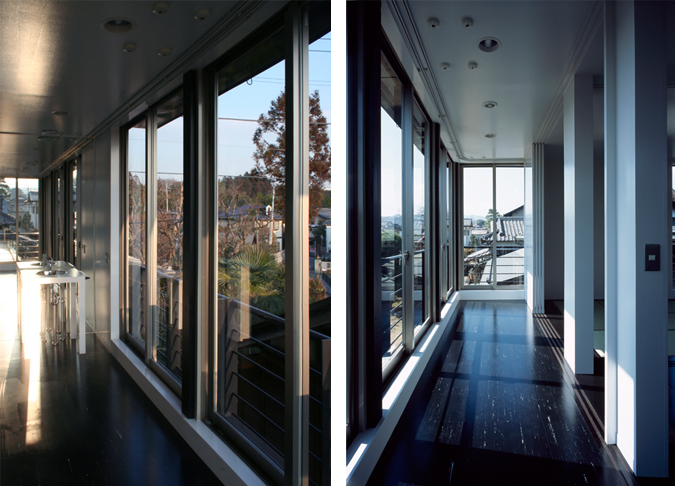 See the sunroom on the 2nd floor. It is opened toward the garden. A washbasin and a mirror are installed, and a handrail for drying the futon mat runs outside the window. Photo: (Right) Koichi Torimura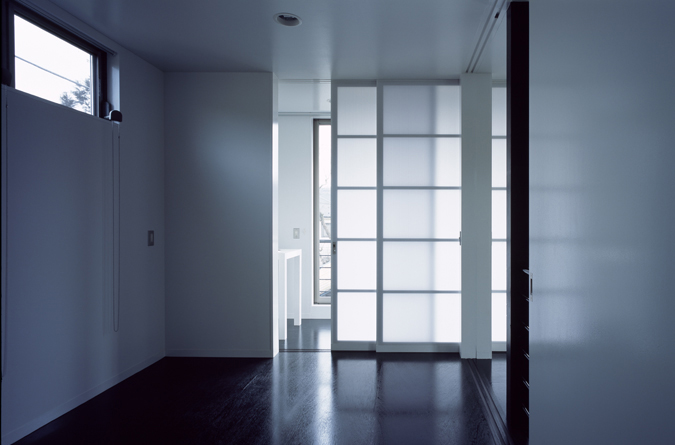 See the private room on the 2nd floor. Shojis finished with a twin polycarbonate plate is inserted between the room and the sunroom, and, since it is attached on both sides, the heat insulating effect is enhanced. Photo: Koichi Torimura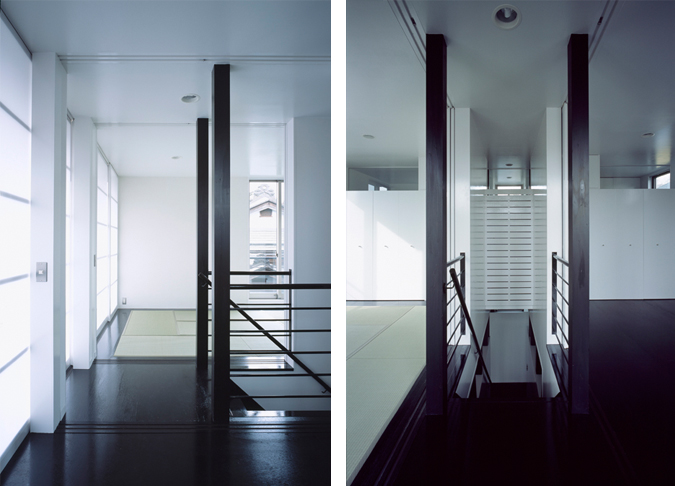 See the private room on the 2nd floor and stairs. The private room consists of two rooms, a wooden floor and a tatami floor. The back of the private room is a walk-in closet. Photo: Koichi Torimura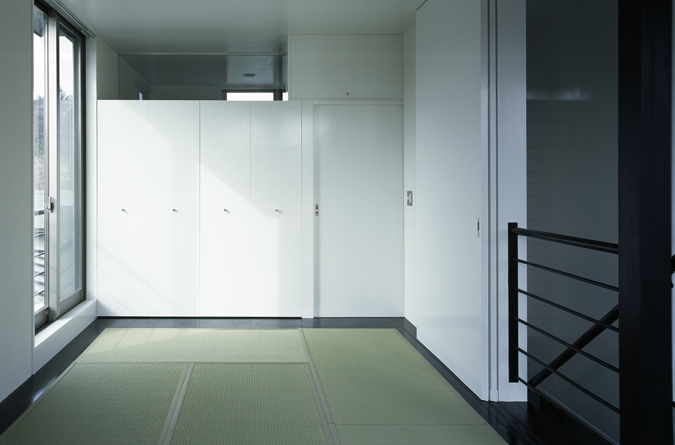 The private Japanese-style room on the 2nd floor. The back is a storage area. From the left window, they can see the 200-year-old main building. Photo: Koichi Torimura
See the transom. It is a modern transom finished with a glass and mirror. The ceiling is continues with the adjacent spaces and they feel more spacious than it really is. Photo: Koichi Torimura
@
@
@